Skip Navigation
Website Accessibility
Handi Quilter Longarm Quilting Machines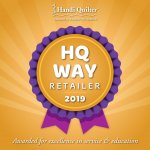 "Designed by a Quilter, for Quilters."
Handi Quilter, Inc.is the top-selling manufacturer of longarm quilting machines, frames and accessories. Founded in 2001 by lifelong sewer and quilter Laurel Barrus, the company designs and builds industrial quality quilting machines in their North Salt Lake, Utah headquarters.
Handi Quilter is known for their quality and continual innovation. Our machines are engineered with quilters in mind. The term "industrial" hardly applies to the look and operation of these graceful machines. Yes, the machines have industrial strength and durability, but they are good-looking and easy to use for the home or professional quilter.
Handi Quilter is continually refining and enhancing their machines and builds each model so that it can be upgraded with new features and accessories as they become available. Over time, Handi Quilter has upgraded controls, tracks and wheels to name a few. Each upgrade improves the quality of the machine systems and of the course the quality of the finished quilts.
In 2009, Whatever's Quilted in Wake Forest joined Handi Quilter as an authorized sales and service rep in Eastern North Carolina. We offer the full range of Handi Quilter machines from the Sweet Sixteen and Avante' all the way to the Fusion and Pro Stitcher. Today, Whatever's Quilted is among the top 25 Handi Quilter dealers in the network.
---
HQ Infinity 26" Longarm Quilting Machine
Introducing the new HQ Infinity. It's like Handi Quilter took all the suggestions and put them into one machine. Along with all the usual standard Handi Quilter features, in this new 26" machine you get more quilting space, more lighting, adjustable handlebars, thread cutter, lighted bobbin, needle laser position, lighted back camera, adjustable handlebars and much more!
>>Read More
---
HQ Sweet Sixteen Sit down Longarm Quilting Machine
If you love to free-motion machine quilt but struggle to fit your project in a small throat space, you're going to love the HQ Sweet Sixteen. Sixteen inches of throat space gives you room to quilt even a king-size quilt. The smooth surface of the included table allows your project to glide under the needle. The powerful motor handles quilting with ease and stitches up to 1500 stitches-per-minute. Choose your three favorite top speed settings, on the easy-to-use color touch screen and let the machine remember them. In 2012, Handi Quilter added stitch regulation as an option. This is truly unique in a sit down model.
---
HQ18 Avante' Longarm Quilting Machine
For the quilter who is looking for more quilting space, but wants a machine that makes the most efficient use of a quilter's reach, the HQ18Avanté offers precision stitching with 15" of quilting space. Multiple track, table and frame options are available to suit your budget. The HQ18Avantécomes standard with stitch regulation and can be upgraded to include the computerized control of the HQ Pro Stitcher.
>>Read More
---
HQ24 Fusion Longarm Quilting Machine
Sometimes a quilter's vision needs room to expand. The HQ24 Fusion offers precision stitching, personal lighting options and a full 20" of quilting space so you can quilt even the biggest ideas. King size quilts are no problem for the HQ24 Fusion.
>>Read More
---
HQ Pro-Stitcher Computerized Quilting
Using integrated HQ technology, the HQ Pro-Stitcher offers the best of both worlds: computerized quilting and free-motion quilting with the flick of a switch. The touch screen controls of the on-board Pro-Stitcher computer make it a snap to operate. HQ Pro-Stitcher can be installed on HQ Sixteen, HQ Avante', and HQ Fusion machines that are mounted on HQ Studio Frames.
>>Read More